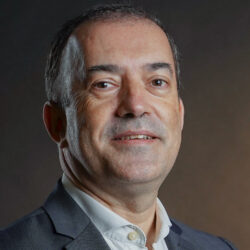 Dr. Manuel Costeira da Rocha
Technology Strategy Director Smartenergy
Manuel Costeira da Rocha joint Smartenergy in September 2019, as Commercial Director H2, where he is actively involved on the business development of green H2 production projects in close connection with mobility and industry offtakers in Portugal, Spain, Germany and Italy.
Manuel is a senior professional with 30 years of international experience, in various sectors of activity, most of them in power and energy. Manuel spent the last eight years in Southern Africa as Managing Director of EFACEC Mozambique and South Africa. He led the local teams in projects across all business units, servicing for energy systems (Cahora Bassa dam revamping, 2 GW) and negotiating substations EPC (total installed capacity over 1000 MVa) and renewables (PV 40 MW). Manuel was part of Siemens T&D between 1991 and 1999. He worked in Portugal, Macau and Germany, first as Sales Manager and later as Site and Commissioning Manager at the first CCGT plant in Portugal (990 MW). Manuel was also director of companies on wood and sheet metal machinery markets.
Manuel holds a PhD in Sustainable Energy Systems (FEUP / MIT Portugal program), MBA from Oporto Business School, Executive MBA from ESADE Barcelona and BSc in Electrical Engineering from the Faculty of Engineering of the University of Porto. He is an invited Professor and co-author of various peer reviewed publications.
<< Back